Why Buy New in 2022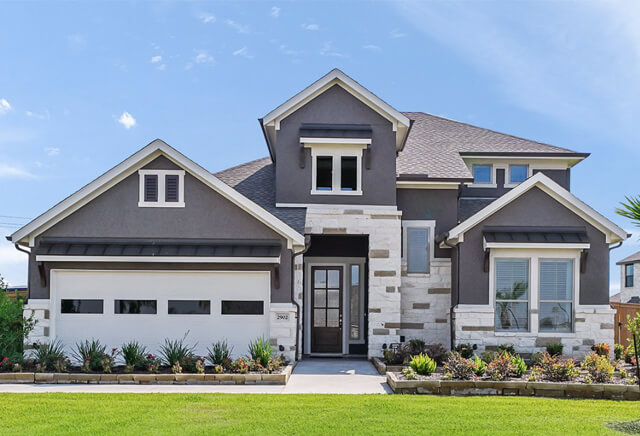 Whether you need to move up, downsize or take that first leap into home ownership, you have a big decision to make. Do you purchase a pre-owned home or a new-build home? We are squarely on the side of a new-build home in Lago Mar. Why? We have our reasons.
Let's Get Personal
While an argument can be made that a pre-owned home is "new to you," the reality is that a new-build home has never been lived in, so you get to make the design decisions. Lago Mar builders allow you to personalize your home to meet your needs with your choice of floor plans, structural options and home décor. That way your home is unique, and you don't have to live with avocado green appliances.
Thoroughly Modern
Once upon a time, homes were divided into smaller, specialized rooms for cooking, dining and entertaining with plenty of walls and not much in the way of windows. Today's homes are nothing like that. Modern floor plans emphasize flow, natural light and high ceilings. These floor plans allow for easier entertaining with kitchens open to family rooms and family rooms open to covered patios.
You'll Be Wired
Adding smart home features to a home more than five years old can be frustrating. A new home is already wired for home automation. Most builders now offer home automation packages as standard features with smart thermostats, door locks, light switches and garage door openers. If you want more, you can add features at the design center for an additional cost. New homes are also wired for faster internet speeds and fewer dead zones.
You'll Save Money
At first glance, pre-owned homes seem less expensive, but a new home will save you money over the long run. New homes are 30 percent more energy efficient that older homes due to advances in building science, stricter energy efficiency regulations and better construction techniques. Most builders install Energy Star appliances, high-performance vinyl windows, LED light bulbs, high-quality HVAC systems and more. All items you'll appreciate when you get your first energy bill.
Home Maintenance is Easy
A new-build home is, well, new. That means you won't have to worry about a dishwasher breaking down, roof tiles falling off or toilets backing up. If something like that were to happen, your cost to fix it would most likely be covered under your home warranty. Many builders also use third-party inspectors to ensure everything is ready before you move in.
Your Home is Under Warranty
New homes and warranties go hand-in-hand. Builders typically provide a warranty that includes one-year coverage for materials, two-year's coverage for systems and 10 years coverage for structural defects from the day you close.
Builder Incentives
A pre-owned home rarely comes with a discount. New-build homes can save you money on closing costs, upgrades and even the price of your new home. These are called builder incentives and new homebuilders typically offer them at least once or twice per year. Check with the sales representatives when you visit the model homes.
You'll Get a Great Community
New homes in Texas are often built in master-planned communities like Lago Mar. Move in with us and you get access to our gorgeous 12-acre lagoon, amazing amenity village and spectacular events. Not to mention the opportunity to make friends for life. Visit us today to learn how you can get started building the home of your dreams.
Posted on Wednesday, March 16, 2022