Lagoonfest Texas Introduces Pop-Up Shipping Containers for Restaurant, Bars, Party Decks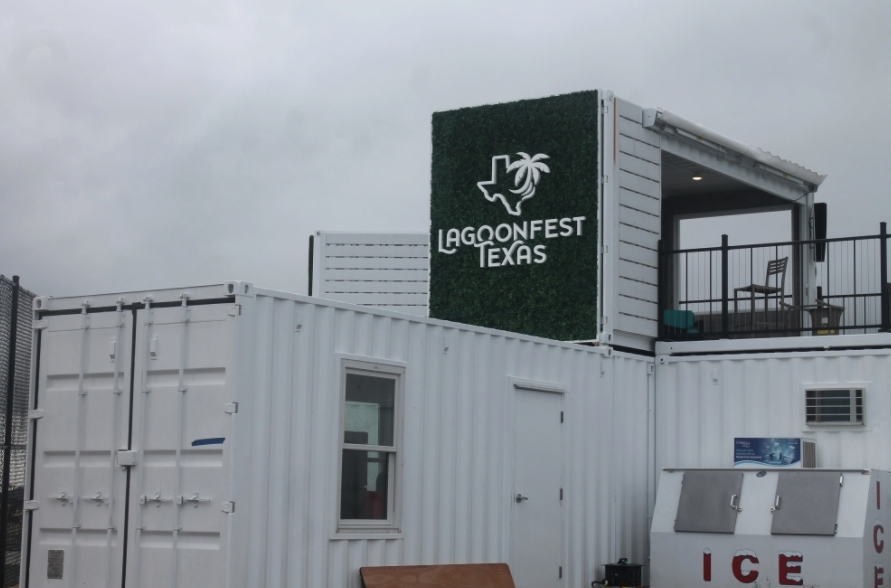 Visitors to Lagoonfest Texas at Lago Mar this summer will be greeted by a new entry plaza constructed of materials that could just as easily be sitting atop railcars.
Sixteen shipping containers have been customized specifically for Lagoonfest Texas — opening May 28 — and will be used as bars, a restaurant, entertainment stage, rooftop party decks, ticket booth and restrooms to frame a diamond-shaped courtyard. Transportable, the containers lend a more permanent appearance than tents, said Uri Man, CEO of The Lagoon Development Company.
"Our company's mission is to bring family-friendly luxury beach life to the general public at an affordable price," he said. "This year we want to deliver a more elevated experience to people visiting Lagoonfest Texas than what we offered during last year's Summer Lagoonfest. These containers will be configured into a beautiful courtyard where people can relax, listen to live music and enjoy the resort-style ambiance."
As the land around the lagoon is developed into a planned entertainment district with a boardwalk, restaurants, a hotel and more, the containers can be moved to another location along the lagoon or to a Crystal Lagoons® amenity in a different Land Tejas community.
"Last summer's Lagoonfest served as a beta test for the future beach club we plan to build on the shores of Lago Mar," Man said. "With these new container systems and expanded beaches, we expect to have more than 150,000 visitors this year, proving out the viability of the public beach club concept."
All involved with Lagoonfest are excited about the expanded capability the containers bring.
"The new facility was designed to enhance the overall guest experience and improve onsite operations," said John Hughes, President of Cleartide, which is engaged to manage day-to-day operations of Lagoonfest Texas.
Eighteen-wheelers delivered the containers to the site, originally traveling from Hong Kong by cargo ship. Ten of the containers measure 20 feet wide and six are 40 feet wide. All are 10 feet deep and all come plug-and-play for the purpose they were designed for.
"Lighting and cabinetry were installed in the USA and there are already power and water hook-ups," Man said. "The kitchen container even has a fryer and grill."
Cranes and forklifts were used to unload the containers from the trucks and place them on the ground, which had already been leveled and prepared for their arrival. Man said it's then just a matter of bolting the containers in place and installing the subfloor and decking on the roofs that will be used as party decks.  It is expected to take about four days to complete.
All of the containers were originally manufactured as shipping containers before being repurposed.
"Seeing them now, it's hard to imagine they could have been used to actually ship coal or manufactured products," Man said.
The exteriors feature white shiplap and the interiors sport a white and natural wood color theme with black railings, white awnings and comfortable furniture.
Visitors to Lagoonfest Texas will be able to enjoy the plaza amenities during the day and after the sun sets and the lagoon closes, hang out in the courtyard to relax, eat and drink and listen to live music.
The containers and courtyard are part of $2.2 million in enhancements to Lagoonfest Texas, rebranded from last year's Summer Lagoonfest. Other improvements include deeper white-sand beaches that triple the amount of available beach; a greater selection of luxury cabanas and seating; more kayaks, stand-up paddleboards and sailboats; a 185-foot, five-story waterslide; and a new electric ferry that will transport people to a VIP luxury beach experience where patrons can enjoy bottle service.  Lagoonfest Texas also boasts the largest floating obstacle course on a lagoon in the U.S.
Admission for Lagoonfest Texas, which takes place within the Lago Mar community at 3240 Lago Mar Blvd., starts at $15 for children under age 13 and $20 for those age 13 and older. Prices are subject to change and will vary based on day of week and demand. Children age 2 and under get in for free. Advance tickets are available at www.LagoonfestTexas.com.
COVID-19 guidelines will be enforced, including no cash transactions, frequent cleaning and enhanced sanitation of high-traffic areas and the requirement of masks for entry, exit and in all common areas.
Posted on Tuesday, May 18, 2021