Build Your Dream Outdoor Kitchen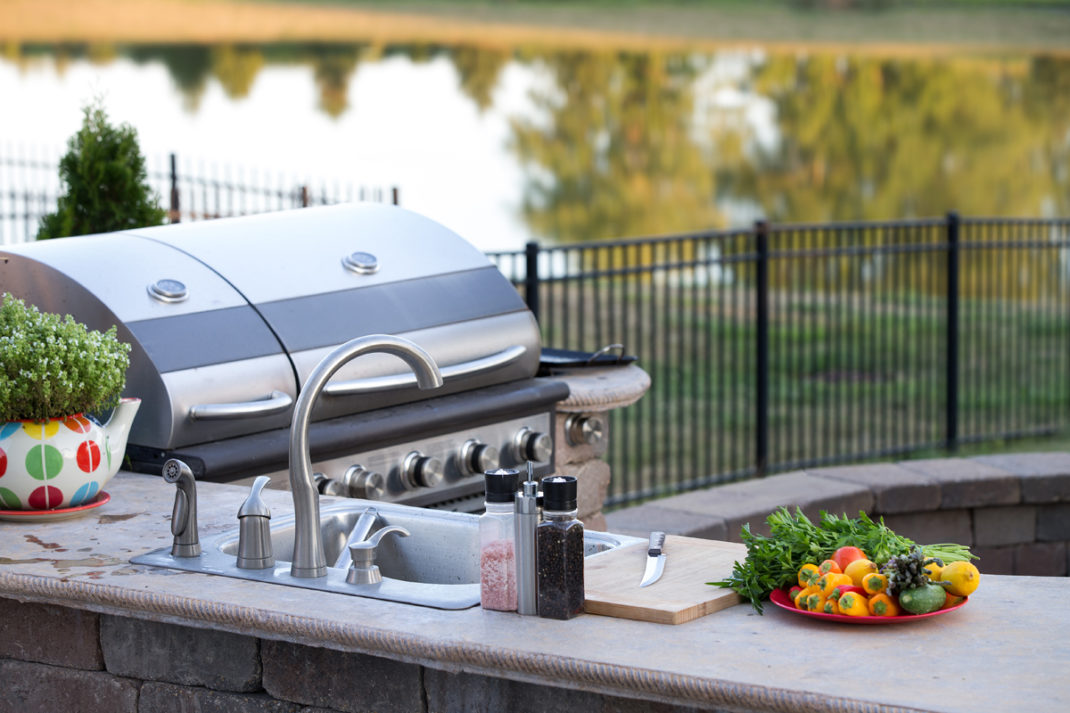 If you plan to rock the outdoor dining scene in your new Lago Mar home, you will need the perfect outdoor kitchen, one that meets your lifestyle needs while looking gorgeous. Your Lago Mar builder can help build it, but here are a few things to consider first:
What is Your Budget?
An outdoor or summer kitchen is an upgrade. How much of an upgrade depends on your budget. Things that affect the price of your kitchen include the quality of the appliances you install and the materials you use to build it. At minimum, you will want a built-in grill, mini-fridge and a countertop for food preparation.
What's Your Outdoor Entertaining Style?
Are you planning to feed the neighborhood regularly or just love dining al fresco? Will you be preparing everything outdoors or just the main course? What foods do you enjoy cooking? How much grill maintenance is too much? The answers to those questions will help you determine everything from how big a grill you will need and what extras to add to your set-up.
Start With the Grill
The grill will be your centerpiece. It's the one essential piece of equipment you need to get the outdoor party started. Decide whether you want a gas, wood or charcoal grill. Some models allow you to switch between the three. Think about how many people you will be feeding or how many dishes you plan to prepare at the same time. If the answer to those questions is "a lot," you will want a large grill. If you are mostly planning to cook for your family, a smaller one will be fine. Choose the best grill you can afford to ensure longevity and low maintenance.
Mini Fridges are Essential
A grill isn't the only essential appliance you need. Miniature refrigerators are great for storing cold drinks, perishable snacks and the main course. They keep you from constantly running back into the house (which also keeps the flies from getting in) and can store any condiments you need for dinner.
To Sink or Not to Sink?
Should you have a sink? Yes. While not essential, an outdoor sink is incredibly convenient. It provides running water for cleaning dishes and countertops. The size of the sink depends on what you will be using it for. If you are planning to do all your washing up outdoors, a double sink is handy. Even better? An outdoor dishwasher if it's in your budget.
Don't Forget the Trash Can
Another convenience you will want to invest in is a pullout trash can. Why? Trash bags attract unwelcome visitors like wasps and ants. It's also not very attractive. A pullout bin keeps the trash out of sight but easy to find.
Fun to Have Extras
If your budget extends to extras, a pizza oven is fun to have. They range from wood burning to convection. Enjoy serving brunch? You might want to add a flat-top griddle to cook up fluffy pancakes, crisp hashbrowns and scrambled eggs. If you like your drinks cold and there isn't room in your mini fridge, install an ice maker.
Cabinets and Countertops
The more cabinets you have, the more cooking items you can store. You should at least have a drawer for your cooking utensils, thermometers and other grill essentials. A cabinet for dry goods and outdoor dishes is also nice. All cabinets should be stainless steel to withstand the elements. Countertops should be made of an easy-to-clean material. Sealed granite is your best bet. It's beautiful and stands up to the elements.
Belly Up to the Bar
Outdoor kitchens come in all configurations, but if you love outdoor entertaining, a bar area is a must. It can be as simple as an island with an overhang or a slightly elevated counter you can adorn with bar stools. Add a mini fridge for mixers and a sink for washing glasses. Shelf space for liquor is a nice addition.
Let There Be Light
Cooking in the dark is no fun. Install a dedicated light source, something that allows you to see what you are doing and adds ambiance for your guests.
Talk to Your Builder Today
Once you've decided what features work for your lifestyle, visit us at Lago Mar. You can tour our model homes for backyard inspiration, then talk to a builder sales representative who can tell you what your options are for building the perfect outdoor kitchen.
Posted on Wednesday, April 26, 2023